I'm a big believer in doing all of the things you absolutely love, those things that make your soul smile, and for me one of those passions is cooking! With what I call my "Spirit Conscious Diet" and my love for cooking I decided to create Spirit Spice a new segment where I can share my truly healthy soul conscious food with you!

Serves 3-4 People
Coleslaw:
4 Cups of Organic Slaw
2 Green Apples, Chopped
½ Cup of Walnuts
½ Cup of Dried Cranberries
4-5 Sweet Dill Pickles, Chopped
¼ Cup of Chives
4 tbsp. of Apple Cider Vinegar
Avocado Dressing:
2 Ripe Avocados
4 tbsp. of Apple Cider Vinegar
2 tbsp. of Agave Nectar
What You'll Need To Do:
Begin by peeling your avocado. With a fork press gently and puree the avocados then add your vinegar and agave. Use a whisk to beat until you get a rich smooth constancy.
The coleslaw can be made to your liking adding or removing ingredients you do and don't like. I personally love my coleslaw sweet, sour and a little tangy!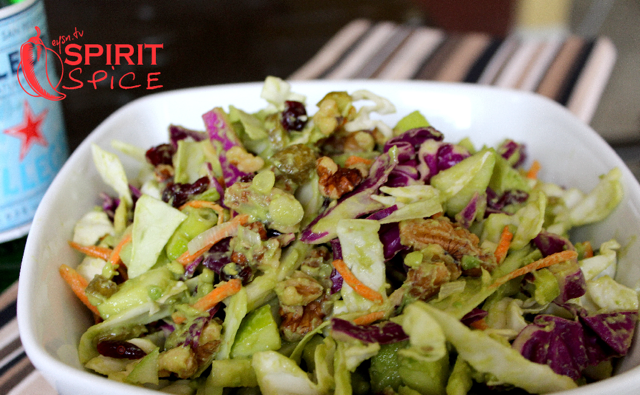 Enjoy! With love & gratitude,
Adam
About the Author:
Adam Aarons is an up and coming author, spiritual & motivational teacher. He is not affiliated with any particular religion or tradition. Aarons believes the substance of love to be our greatest and most powerful tool as humans. You can visit his Facebook page www.facebook.com/adam1207 for his most recent updates.