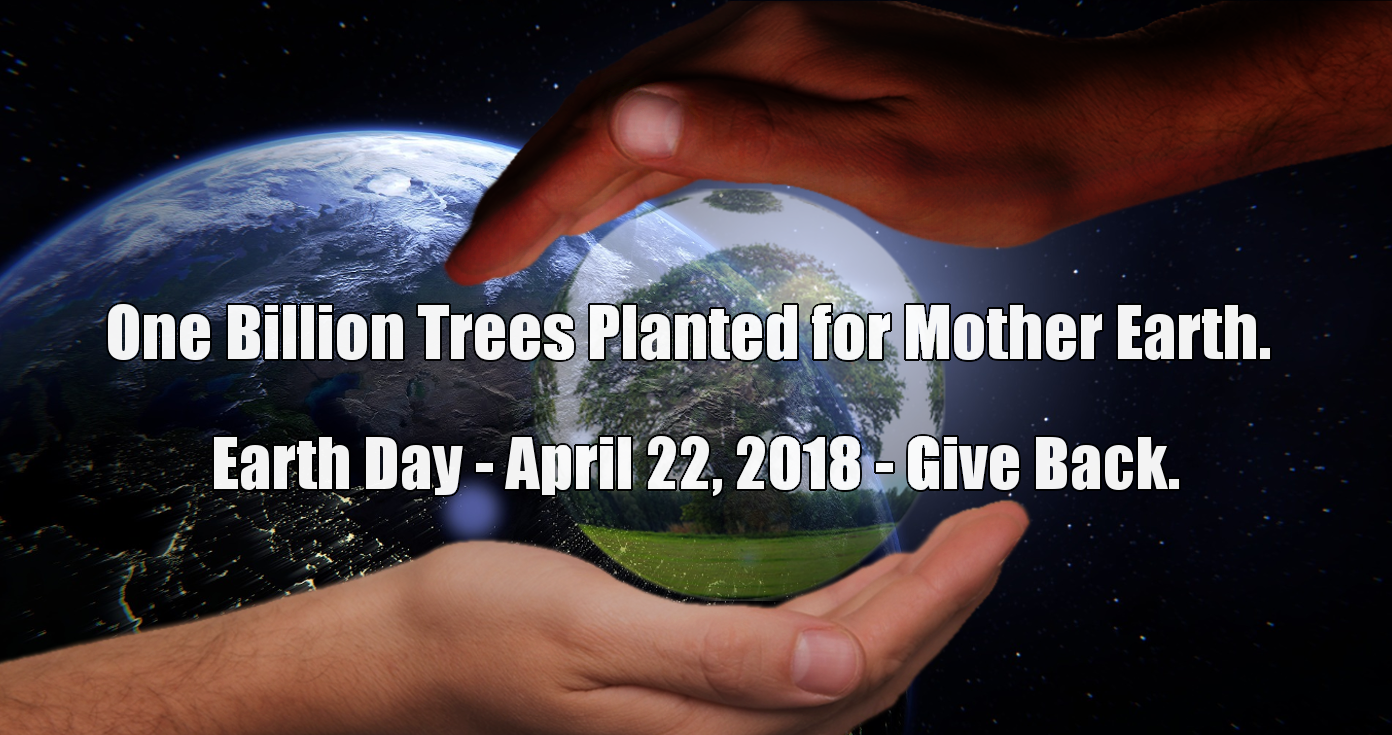 ON EARTH DAY, April 22nd, please join THE BIGGEST GRASSROOTS PLANTING INITIATIVE IN HISTORY as we come together to "GIVE BACK" to the Earth for all she has given us. It's an old Native American tradition that when you take something from the Earth, you put something back. On Earth Day, please join people from every continent around the world as together we give back by planting a tree.  Our goal is to reach one billion trees planted!
Our campaign #pledgetoplant is created in such a way that everyone around the world can participate.  The campaign inspires global community from every culture, age or language.
THE TIME IS NOW…It is important to keep a certain portion of the planet covered with forests as it is essential for regulating the distribution of rain and snow over the surface, thus, controlling the climate.  Every tree planted by you will assist in stabilizing the climate and provide habitat for various species.  We can no longer wait for something outside of us to create change.  WE ARE IT!
Please plant something that is organic, perennial and suitable to the growing conditions in your area. If the temperature is not conducive to planting on April 22nd, please start growing a plant indoors or commit to planting your tree once the outdoor temperature is warm enough. If you live in an apartment, please plant something in a container or donate a tree to a garden in your area. Please nurture your plantings, like children, until they can sustain themselves on their own.
Our previous "Give Back to Earth" Campaigns enabled well over 100,000 trees to be planted around the world in addition to over 500 businesses/organizations who created their own planting events!  We would love to add you to our list for 2018!  Please visit Forest Nation to "Pledge to Plant."
HOSTED BY:  The White Feather Foundation, Forest Nation, The Master Shift

ATTENTION all Businesses/Organizations/Schools/Clubs/Facebook Groups: You are welcome to join us by becoming a contributor to the event.  By doing so, you and will be featured in our on-line directory. There is no fee. Contributors can host their own event, promote the event or perhaps create a video. We encourage you to use your own creativity. In doing so, the possibilities are endless.  If you are interested, please email [email protected] or [email protected].
RESOURCES:
CONTRIBUTORS:
Organizations: The Master Shift, The White Feather Foundation
Universities/Schools:
Businesses: Forest Nation,
Clubs/Groups:
Facebook Groups: