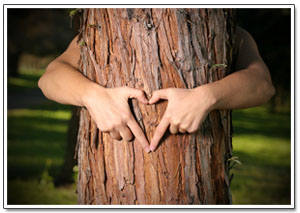 It sounds so corny, but you know what?  We, as human beings, are more disconnected from nature than ever before.
You want to know what I do when I feel like I need more grounding?  Call me crazy, but I hug a tree.  Yeah, you heard me.  I hug a tree.
If you stop running the world according to your mind and remember the curiosity and childlike wonder of the world, hugging a tree is pretty cool.
Our minds are occupied with thoughts, most of us are constantly distracted by media, technology, obsessing thoughts, and all the things on our to-do lists. It seems like the noise and constant immersion never ends. When you go out in nature you can let all of that go. Time, the way the world runs, all the connections (they exist in the world we keep spinning) but out in nature you can take a long moment, sit next to a tree, listen to the sounds in the air, maybe there is a distant river, insects, birds and critters up to their daily life. There is a world beyond the civilization we have created and in order to connect with nature and unplug from the matrix, we have to put ourselves in direct contact. Hug a tree and don't force what kind of experience you want to have onto it, witness what you feel when you aren't trying to control everything.
Get out there and try it. Report back to me by leaving a comment in the box below and tell me what you felt. I would love to know if you felt something you didn't know you might.
Photo Credit:  www.sodahead.com
About the Author:
Hayley Hobson is a yogi, Pilates and nutrition expert based in Boulder, CO. Hayley creates lifestyle transformations by coaching her clients to strengthen, nourish and evolve through the cycles and shifts in life. Combining cutting edge understanding of all three disciplines of Pilates, yoga and nutrition due to years of anatomical study and dietary theory, Hayley's approach leverages their blended benefits and results. Her unique and intelligent style promotes strengthening while softening–empowering her client's to heal not only their physical bodies, but their hearts and minds as well. Hayley is the creator of the Strengthen, Nourish and Evolve Nutrition and Detox Programs.  Enrollment is open and www.snenutrition.com. To find Hayley, visit her website www.hayleyhobson.com or visit her on Facebook at www.facebook.com/hayleyhobon or Pinterest www.pinterest.com/hayleyhobson69.