Please enjoy the recipe below.  It is quick, easy and healthy.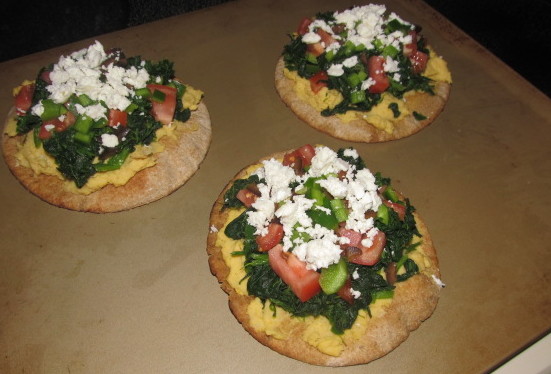 Healthy Mediterranean Pita
2 (15oz) cans of garbanzo beans drained. *Please look for Eden brand because they do not line their cans with BPA.
¼ cup olive oil
3 cloves fresh garlic
½ freshly squeezed lemon
Whole wheat pita rounds (found in the freezer section)
1 (10 oz) package frozen chopped organic spinach, thawed and drained
1 vine-ripened tomato
1 organic green pepper, very finely chopped
¼ cup feta cheese
A handful of black olives
In a food processor, add first four ingredients, processing until smooth. Arrange pita bread rounds on ungreased baking sheet, brush with olive oil. Bake at 450 degrees for 6 minutes. Spread bean mixture evenly over pitas. Arrange remaining ingredients over pita rounds. Bake at 450 for another 5 minutes or until heated through.
About the Author: Christine Segal, M.Ed., is a Certified Holistic Health
Coach having studied at Integrative Nutrition. She has her own business called Inner Beauty Workshops where she teaches clients how to generate beauty from the inside out. Christine is currently studying to become a Doctor of Spiritual Studies at Emerson Theological Institute. She hosts a weekly radio show on Freedomizer Radio called WakeUP & Live. Website (www.innerbeautyworkshops.com