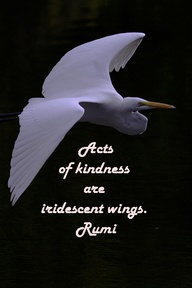 Let's start actively raising the planet's vibration.  Little acts of kindness can add up and shift the Earth's energy into a higher vibration.  Since we are one, your actions will benefit the whole.  The result of which can be a more peaceful world.   Your participation is necessary and essential in tipping the scales to a more positive way of life.
Let's keep the first action item simple and see how we do.   For the next seven days, feel free to give out "surprise" compliments.  If you see somebody wearing something you like, tell them.  If you are working on a job and you are pleased with someone's performance, let them know.  If you are pleased with a child's behavior, tell them so.  You can compliment a random stranger on the street!   In your daily life, consciously notice those around you and compliment them when deserved.  This can completely brighten someone's day.  If each one of you gives out a daily compliment for the next seven days, and there are 33,000 of you, then we will have an extended reach of 231,000 people!  If you share this post on your social media sites, we will reach even more people.
Please return to this post and share your experiences to motivate others.   Let's spread happiness and joy around the world!
About the Author: Christine Segal, M.Ed., is a Certified Holistic Health Coach having studied at Integrative Nutrition. She has her own business called Inner Beauty Workshops where she teaches clients how to generate beauty from the inside out. Christine is currently studying to become a Doctor of Spiritual Studies at Emerson Theological Institute. She hosts a weekly radio show on Freedomizer Radio called WakeUP & Live. Website (www.innerbeautyworkshops.com) To sign up for Christine's newsletter: http://innerbeautyworkshops.us4.list-manage.com/subscribe?u=afc0eee639586ca887b38b464&id=03df846602