In order to receive, we must feel that we deserve.  Our subconscious scripts must know that we are worthy of receiving our stated intentions.  In order to do this, we must become "aware" of past conditioning received from childhood.  We must become "aware" that other people's opinions do not define who we are.  We must erase those mental scripts that limit and prevent us from growth.  We must learn to love ourselves unconditionally and know that we are perfect just the way we are.
Here is a wonderful exercise from "The Science of Mind" by Ernest Holmes; one in which he claims the mystics used to teach their pupils self love.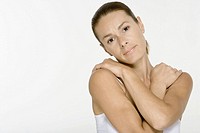 Cross your hands over your chest, like you are holding yourself, and say "Wonderful, Wonderful, Wonderful Me!"   According to Holmes, this will teach you to "Act as though I Am and I will Be."   This exercise, done repeatively, implants a positive seed of thought into your subconscious.
Repeat this exercise as often as you like.  At first it may feel a bit awkward, but keep doing it until it feels comfortable and brings a smile to your face.
Photo Credit:  http://www.agefotostock.com/age/ingles/home01b.asp
About the Author: Christine Segal, M.Ed., is a Certified Holistic Health
Coach having studied at Integrative Nutrition. She has her own business called Inner Beauty Workshops where she teaches clients how to generate beauty from the inside out. Christine is currently studying to become a Doctor of Spiritual Studies at Emerson Theological Institute. She hosts a weekly radio show on Freedomizer Radio called WakeUP & Live. Website (www.innerbeautyworkshops.com