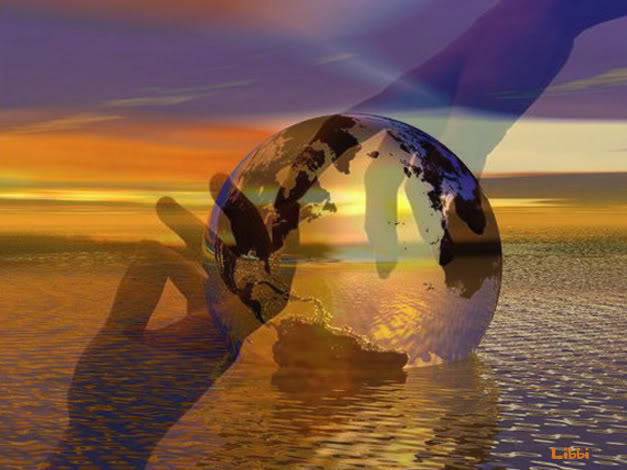 The media bombards us with negativity.  Even though I don't watch the news, regular shows seem to add the negativity into their scripts.  I have to believe that even through the present world issues and events we, as human beings, are coming out of an era of spiritual poverty.  People are searching for meaning, awakening, enlightenment and growth to fulfill the absence that money once occupied.  There is no shopping, eating out, purchasing expensive homes and cars, or traveling to fill the void inside.  Therefore, we find that spiritual quest is on a rise these days.  While some believe that "the end is near" and people need to get on the bandwagon, I believe that time is accelerating us to start moving inward rather than outward with materialism.  People are actually enriching their lives with a faithful quest for Divinity.  It's not about the end of our existence.  It is about finally accepting our roles as spiritual beings that are connected to each other.
In our society we have been taught to search for meaning, purpose, and aspiration from any source but meanwhile we fill ourselves with technology, drugs, alcohol, food, etc.  At the same time we now seem to be questioning our choices more carefully in regards to addictions.  Spiritual richness comes from acceptance and allowing humanity to join together.  Strangers become friends because we see God looking through their eyes.  I remember once reading a quote from Stan Dale, the founder of the Human Awareness Institute: "If God wanted to hide, He would hide in human beings because that's the last place we would think to look." I know this is now changing.
Every time the door bell rings in our retreat center we open shelter for someone to come inside and share a story: the dreamers, the worriers, artists, parents, children, healers, damaged, scarred, mischievous, adventurous, therapists, creators, believers, artists, doubters, skeptics, searchers, lovers, haters, naturalists, optimists, poets, spirits…on and on.  We classify ourselves with labels.  Who we are has little to do with what we are and what we do.  However, we relate to the titles because that's the way we have been programmed to perceive our status in society.
I am always surprised at the stories of those who are willing to share their truth.  The superficial skims off, sliding to the sides and the light in their eyes shines brighter than any star.  These are the ones who interest me beyond mysticism.  I am always in awed at those souls who do not see their light but make no excuses for who they are.  They are certain of their journey.  I love them.  They teach me something about what I don't see in myself.  The reflectors illuminate the way.  I step back and think, "How can I be more like this?"
I am not the only one asking questions about the purpose of this journey.  I believe we are searching deeper within ourselves and others in this new era.  I believe we are looking through a child's eyes, a stranger's smile, or a friend's words and finding God providing us with a personal message.  I believe in synchronicity, serendipity, and faith that we are all becoming more conscious of the thin thread that ties us together.  I believe in Quantum physics, science of the mind, and the chemistry of God.  Because of this I know in my heart that we are entering spiritual richness and leaving the spiritual poverty as a lesson in our human path and history.  The footprints of selfishness, isolation, addiction, and destruction will be a distant memory in the near future. And, this is what opens my heart and allows me to look forward to more growth.  This is also what has healed me from all my past experiences and hurt.  An open heart to the world brings peace, love and unity for all.  I am so grateful for what lies ahead…I am hopeful for all, as citizens of this world, creating magic in the coming years while allowing the Divine to lead the way.
Photo Credit:  silviakusada.wordpress.com  (Libbi)
About the Author:  Millie A. Mestril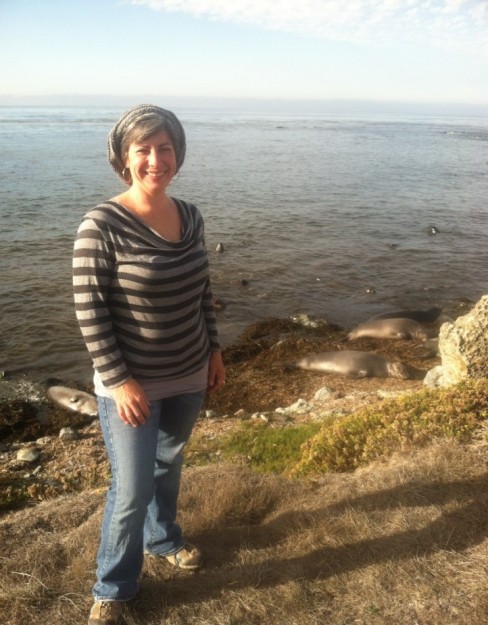 After raising six children, working in the corporate world, and being part of a relationship for eighteen years, I found that happiness was not consistent in my world.  I left the business world, ended a relationship that was deteriorating and headed to the mountains.  My best friend and I bought a small motel in the middle of gorgeous country and began the greatest journey.  What started as a visit to Asheville in May of 2010 became a permanent home for us.  Now with only one teenager at home, I am able to be part of a wonderful world of meeting people from all walks of life.  We've transformed an old gem of a place into a sweet and quaint oasis for others to find peace.  To those looking into our lives it seems we saved Peaceful Quest Retreats, but the reality is that this place saved us.  Every day brings joy, inspiration and a zest for life I never knew existed.  The lessons have not always been easy but the ride has been scenic and delightful.  I can't imagine ever returning to a life that was not authentic to my spirit. ~ Millie A. Mestril
Please feel free to visit our website at www.peacefulquestretreats.com .  I also have a personal blog at: www.momentswithmillie.wordpress.com