About a month or so ago my son, Christian, took his girlfriend to a late movie at a local movie theater.   When he got home he realized his wallet was missing.  After checking all the obvious places, like the car and the walk to the house from the car, he quickly raced back to the movie theater with the hopes of it still being open.  So, I called the theater and they told me they just closed but will wait for my son to get there.  About 1/2 hour later,  he returned home, I could see by his expression that he had no luck.  The wallet was gone!  Along with his license, $80.00, school ID, bank card and a few other miscellaneous things.  We went online and ordered a new license, cancelled the bank card and figured he would get a new school ID when school started again. The money was obviously a goner!
Well, the next day, when I went to bring in the mail, guess what I found….   my son's wallet.   Not only was everything still inside, money included but there was a note (picture below)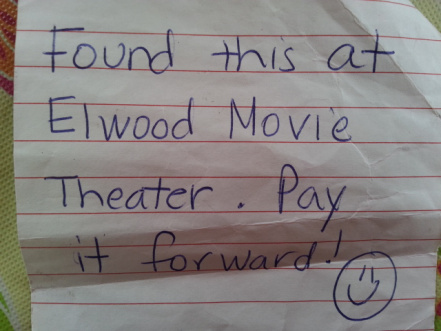 Even though we had already taken the steps to replace everything, we were still thrilled at the idea that someone was honest enough to drive to our home and put it in the mailbox.  Of course, my son was more thrilled that his money was still there.
Kudos to that anonymous person.  And pay-it-forward we will.
About the Author:
Laurinda is a married mother of 3 young adults.   Her company name is NY Introductions. NYI is a social media marketing company and more.  The Company helps promote your business through various means.  www.facebook.com/NYIntroductions
Laurinda is also the President & Founder of NY Business Alliance (NYBA) and a proud board member of LI Connects and participating member of several other networking groups. www.NYBusinessAlliance.com  www.facebook.com.NYBusinessAlliance
"My family is my world and my line of work is my passion."
Blog:  http://laurindanyintro.com/blog/