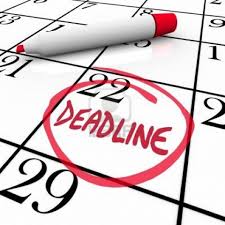 The biggest reason why people give up is because they tend to focus on how much further they have, instead of how far they've already come…
Goals can be very intimidating. Time adds pressure. Failure brings frustration.
This is all because WE have set a "timeline" in our minds when a goal should be "accomplished" and WE determine how many times -if any- WE'RE allowed to "fail" before giving up…. Such as when we should be married, when we should be done with college, when we should have a certain amount in our bank account…the process of staying sober/clean.
Let's be realistic; in the year we're in now with life having so many demands and deadlines already (your school paper has a due date, your boss has a meeting date, your child has a project due date) we shouldn't be creating more stress with personal deadlines. They only create blockage.
Remove this timeline from your mind. Forget life-sequence (the order it "should happen"), forget self-deadlines (the time it "should happen by"). By doing so, you will relieve yourself of so much unnecessary stress, which will create space to FOCUS ON THE GOAL ITSELF. If you let go of control, you will actually GAIN control.
"Time will tell, but will not stop.
So until then, live and learn, don't wait and wonder"
I've personally been there. The deadline of when I should have my second child has come and gone– years ago! I stressed out and got very upset that I'm at such an age and my son (0nly child) is such an age. I did everything "in order" this time around. Got married, got some more semesters out of the way, but somehow my time line isn't right. So I thought. Once I took the batteries out of my clock, I had more time. This dreadful time clock was no longer ticking in my ear. Now, I'm feeling much better, not because I've given up, but because I wouldn't give in– give in to a deadline.
Try this exercise:
Focus on one thing in your life.
Release the pressure which is causing blockage of achievment.
Dead your deadlines!
Take notes, compare within time- you'll be amazed by the shift that will occur.
Photo Credit:  www.nantucketchronicle.com  (No copyright Infringement Intended.)
About the Author:
~Deanna Lupinacci
Life Coach & Reiki Practitioner