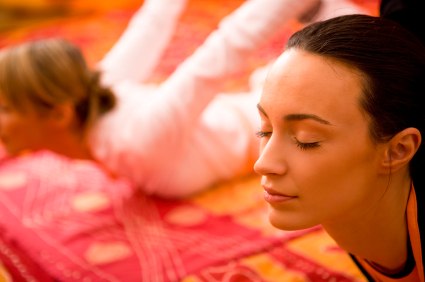 Separate But Equal
Women's and men's bodies are inherently different and should be treated as
separate but equal. Androgynous merging within the yoga community is not
serving either sex's biological or psychological development. Addressing this
issue on a community level will encourage a deeper physical and mental
evolution for both male and female yoga participants.
We should not take our struggle for gender equality and place it on the body.
Gender Specific Classes
I started exploring gender specific classes in 2006. One class was with a group
of women who had small children enrolled in ballet next door. The other group
was teen boys serving time in juvenile hall. While each demographic needed
different types of postures, they both flourished in gender specific yoga
classes.
Group 1 Women:  The majority of women ended up becoming pregnant within months
of one another. While no student was planning conception, some conceived
against all odds, including a women on birth control and a mother who had
resorted to in vitro fertilization for her first born.
Only after I ran across information about fertility yoga did I understand the
power of what happened and the power of women centered yoga. It turns out I had
been unknowingly teaching sequences that supported fertility. Many of the women
were holding tension around their pelvis and shoulders due to stress and modern
living. To undo these holding patterns, I spent an inordinate amount of time
grounding the practice, opening the pelvic region and supporting the heart.
Voilà! It worked like a dream and has continued to work for many women since.
Participants also report feeling better after women's yoga than standard mixed
classes.
Group 2 Teen Boys:  The second group was very different. Multiple classes of
incarcerated teen boys met in the ward cafeteria to learn yoga. All of these
boys were perpetrators and/or victims of violent crimes and were currently
residing in an abusive jail facility.
Getting gang leaders to buy into yoga is no joke. However, with a bit of
experimentation and the addition of movement therapy to combat PTSD, we found
our way together. Those boys really responded to short, achievable challenges
that focused on strength more than flexibility. Coming back to poses multiple
times kept their confidence and motivation in tack. Almost all reported
sleeping better after just one class. Their favorite part? Guided meditation. I
went on to work with incarcerated boys for the next three years and was
constantly in awe of their transformations.
I could have never taught those postures or structures to members of the
opposite gender. If I had, the response to the material would have been much
different; as would have been the effects on their bodies.
Benefits
Historically, yoga was developed by men, for men's bodies. The sequences and
postures have yet to be adapted to the female body. Witnessing women's monthly
menstrual cycles vanish while practicing a specific lineage of yoga shocked me.
It is one of multiple reasons I adamantly advocate for women's yoga.
It's not just women who lose out in coed classes, men do too. Yoga teachers
struggle to balance the practice for both male and female bodies. With classes
composed of mostly women, this tends to slant the practice toward sequences
which require amounts of flexibility that an untrained male body cannot safely
achieve without proper modifications.
I believe more men would attend yoga and have a more enjoyable experience if
gender specific classes were offered.
Our physical bodies are different and that is beautiful. It's perplexing to
think that we treat a soft spacious abdomen which has the ability to grow life,
the same as a taught narrow abdomen which is designed for power.
Discrimination
Discrimination means that equals are treated unequally. Did you know it also
applies to unequals being treated equally?
This movement is not about one gender being better than another, it's about
honoring our inherent differences so that we may continue to cultivate the
practice and ourselves in a more highly specified way.
What You Can Do
What's a practical step you can take to keep society's political plight off
your vastly unique body? Talk to your teachers about gender specific yoga. Many
teachers yearn to dig in deep, but are limited by the current class structures
or simply don't know about gender specific yoga. Your asking will give them a
new opportunity.
Elements
Here are some elements I add or subtract to women's yoga:
1.) Add circular patterns to movement. Circular = Feminine, Linear = Masculine
2.) Include nature in themes, imagery and musical choices for healing.
3.) Include partner / community building exercises such as partner massage and
reflection.
4.) Cut down on postures that require extra upper body strength.
About the Author: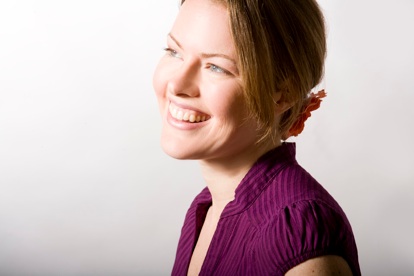 Taryn Hughes is a yoga instructor and women's self-development consultant. Her dream is to see the majority of women around the world, exhibiting wisdom, vibrancy and grace throughout their personal and professional lives. As an expatriate in Berlin, Germany, she has returned to graduate school in the middle of her career to obtain a MA/LLM degree in International Human Rights and Humanitarian Law.  Focusing on women's rights in a historical, societal and legal  context has  deepened her ability to empower women on their path of inner development. You  can find out more about Taryn at her website. Connect with her  on Facebook and  Twitter.
Website: www.tarynhughes.com