In July 2014, I packed up everything I owned and left Atlanta, left the deep south, to move to Bend, Oregon. I had never been to the Pacific Northwest until a couple weeks prior, when I was flown in for an interview. I would be teaching music full-time for a non-profit preschool; a job I had been searching for, for three whole years. I had no idea of the amazing, incredible and sometimes heart-wrenching journey I was in for.
The first thing that struck me about Oregon was the depth of beauty and stillness surrounding me. In Atlanta, I had grown accustomed to pavement, skyscrapers, endless traffic, and the collective energy of seven million people. I had literally felt like I was drowning. Now all of the sudden, I was living in a town of roughly 80,000 people, located in a quiet oasis of mountains, rivers, lakes, waterfalls, and forests. I did not know it yet, but I was about to reconnect with my muse (I had only written maybe seven songs in the past seven years), embark on the biggest recording project of my life, and undergo some major self-transformation.
It started in March. I read an article about quantum physics and time, and how time is not really linear – all we have is the present. Even our memories of the past we experience in the present…as well as our anticipation of the future. I had the idea for a song. I scribbled down a few lines while watching the children play in the schoolyard.
Yesterday could be tomorrow
Tomorrow could be yesterday
Here we are, on a sunny day.
And I soon came up with a chorus.
Kingdoms rise and fall
The world shifts around us
We are born learning to crawl
Without a watch or atlas
Still better to have loved
Than never to have shown it
To have lived is to have known it
We borrow time, we do not own it
I soon had two verses and a chorus, plus a chord progression and melody. I couldn't come up with a third verse though. I worked on it for a while, into the evening, not coming up with anything. So I put it down and went to sleep. The next morning, when I woke up, these words were in my head.
Sun lights on the Boston harbor
Running in a marathon
Racing to the finish line
Sometimes we are interrupted
Sometimes we trade in our glory
For a moment of grace
It gave me chills. The song had suddenly taken on an even deeper meaning. I had not planned to write about the Boston Marathon. That made it seem even more divinely inspired. But I was just getting started.
I had been following a page on Facebook for a couple of years called "Remembering Ana Marquez Greene". She was a victim at the Sandy Hook School shooting. Her mother would frequently write posts about her, and how much love they had for her. Her father, Jimmy Greene, is a jazz saxophonist, who recently released a CD, Beautiful Life, to honor Ana. I picked up a copy and listened to it several times.
Again, I watched the children play outside, and I started writing a song that would be called "Rain Makes the Flowers Grow". It was a song for Ana and it would end up being a heartbreakingly beautiful song, featuring tenor sax played by my friend Mace Hibbard.
Rain Makes the Flowers Grow
"I hear her laughter sometimes
When the snow falls
I can almost see her standing there
The sound of her voice breaks the stillness
The feel of my fingers in her hair
I know today is not forever
And to this world we are bound
But part of me seems to be missing
In these seasons that go round and round
Love,
We can forget about it
We can write it in a song
We can bury it in the ground
We can carry it along
We can lift it to the sun
We can let it drag us down
The rain makes the flowers grow
In a small New England town
Your saxophone a gentle celebration
Of the beauty that we knew
It cries out in ecstasy and sorrow
Shades of violet and blue
I can feel her dancing
She moves as the music begins
I hear her whisper softly
That love always wins"
I wrote this song from the perspective of Ana's mother. I really believe that Ana wanted me to write this song. I believe it is a message from her through me, to say that everything is all right. In fact, I did contact Ana's father initially, and asked if he would be willing to play on this song. He politely declined but wished me blessings.
I do not know if either of her parents have listened to it but I hope they will hear it at some point. I really believe that "love wins" and that is the message I'm trying to convey. At one point, in the recording process, someone who I had never met suggested I was trying to exploit her, Ana. What I say to that is that this song came from divine inspiration, I believe Ana had something to do with it, and that I am simply a messenger, a songwriter, with an amazing capacity for empathy. I believe it is that empathy and deep sense of compassion, that allowed me to connect with her, and the result was the song "Rain Makes the Flowers Grow." It is my genuine desire to write, record, and perform songs that spread love, grace, and healing and help to make the world a more beautiful place.
Not long after that, I heard some disturbing news. Frank Barham, an Atlanta musician/activist had been killed and several friends were devastated. I did not know Frank, but I soon found out he had been attempting to ride by wheelchair from Atlanta to Savannah, to raise awareness for the disabled. About 30 miles outside of Savannah, a tractor trailer had hit the van accompanying him, and both Frank and Margaret Kargo, an arts advocate traveling with him, were killed. I felt a deep sense of grief, and tried to find out more about Frank.
I read a journal entry he had posted that really struck me. It talked about battling his inner demons, and how he wanted to inspire people to overcome the limitations that they impose on themselves. How he knew he had to push himself to the brink.
Almost exactly a week after Frank's passing, I wrote the song "The Road to Savannah". It really captured his essence and what he was about. It even captured the agony and chaos of the accident and that transition with chilling dissonance. But it captured his message succinctly and is one of the most powerful songs I have ever written. I shared the lyrics with his widow, Adriana. She loved them and said that it was a perfect portrait of Frank, and that he would have loved it as well. I believe that Frank connected with me on some level, and that enabled me to write this song that emanated so much of his aura and was so genuine and powerful. I never met Frank while he was here on earth.
But I still wasn't done. On June 17, I heard there was a shooting in Charleston. Nine people from a bible study group were killed. Like most people, I was disturbed and experienced a feeling of grief. But what bothered me in the days following, was that social media was full of talk about the flag, about the shooter, about gun control, but very little about the actual victims. I wanted to write something exquisitely beautiful that captured their essence, their beauty, and brought the focus back to them. I wrote "Black Sun". Instead of a yellow sun, I imagined a black sun rose in the sky. And it was beautiful.
"A black sun rose up the sky today
And shone its black rays across the world
Blacker than the night in its darkness
Darker than the color of black
A black sun peeked out from the clouds today
And gazed down on an ocean of black
Sitting high above black mountain majesty
Ablaze in its blackness and light
Chorus: And the sky was black and beautiful
Brilliant colors for you and for me
The black was sweet and wonderful
From sea to shining sea
The black was sweet and wonderful
From sea to shining sea"
While it may seem unusual, that I happened to write so many songs inspired by victims of tragedy, I actually believe just the opposite. That it is the most natural thing in the world. We are all connected. All of us. Even when we have left this physical realm, we are still connected. When you allow yourself to feel empathy and compassion for someone else, you are simply one soul touching another. And if I have the talent, the ability, the desire, and means to write a song for a beautiful departed soul, who's life was tragically cut short due to senseless violence, how can I not? I wrote these songs because I absolutely had to. And when you tune into that source, from which we all come, amazing things can happen.
For example, the other night, I decided to find the article I had read about quantum physics/time and reread it. This time, I looked to find out who wrote the article, and exactly who he was. It turns out the writer is a marathon runner, and ultra marathon runner. And I had no knowledge of this at all, when I wrote the lines about the Boston Marathon.
Another unusual happening involves the cover photo for beautiful things. On Easter Sunday, I just happened to be walking by the Metolius River in Sisters, Oregon with my family. I walked over a little foot bridge, and thought the reflection over the stream looked cool, so I snapped a photo on my iPhone, and didn't think much about it. Several months later, it occurred to me it would make the perfect cover for "Beautiful Things". But how odd, that on an album with deep themes of life, death, and rebirth, that a picture taken on Easter Sunday, would end up being the cover.
But in the same way that we see the reflection of the sky and trees, over the surface of the water, we are a reflection of the divine. Whether we are on our life journey as in "Beautiful Things" and "Indigo Moon", or a nightingale singing a heavenly song as in "Nightingale", or a rose waiting for the springtime to return as in "Roses", we all come from the same source. "Beautiful Things" is a celebration of the beauty that is in all of us. Even when we have left this world…then the beauty shines even brighter.
I am so thrilled to be able to share this music with the world. I feel as if I am sharing my very soul through the words and music. And through this whole process, I have felt closer than ever to finding my true self, and connecting with my core being. I also hope that I can bring hope, healing, and love to a world that is very broken, troubled, and in despair. "Beautiful Things" is dedicated to Ma Jaya Sati Bhagavati, who taught me to find light, even in the darkest night.
"Will you shine on the waters of my soul
Will you mend the broken pieces
Hold them gently in your hands
Will you shine on the waters of my soul"
Victor Johnson is a full-time preschool music teacher and performing singer/songwriter based in Bend, Oregon. He finds inspiration in the mountains, forests, lakes, waterfalls, and rivers that make up Central Oregon. He recently released his 4th CD, Beautiful Things, in October of 2015. He enjoys spending time outside, being a father, following his spiritual path, and living in the moment. He previously lived in Atlanta for nearly 21 years where he performed with various bands and ensembles.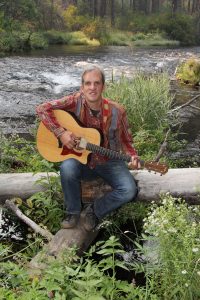 Photo taken by April Groom
Find Victor Online!
twitter: @victorsings