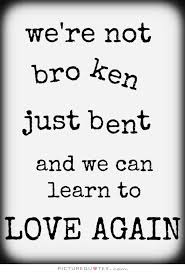 I've  had people in my past constantly telling me how I am in my imperfections: "You are broken. You need to fix this and that about you in order to move forward. You have to figure this out the right way without your nonsense. You have to allow for this and that because you are doing it the wrong way…." For most part of my adult life I happened to believe this Broken Theory and the need to fix, not only me, but others around me so that I didn't feel broken. The truth is that I am not broken. I don't need fixing. This is who I am and who I intend to travel down the road of life. Each part of me that has fallen, ached, fractured has also gotten herself up, healed and been whole. I am not needing to fix anything else. That desire to be super woman has diminished with time. Peace comes in accepting who I am with what I am and where I am with my truth.
You ARE NOT broken. You are learning. You are evolving. You are growing into the person you are meant to be. You are challenging your higher purpose and self. You are moving through this life with the things that matter: an open heart, wisdom, compassion, faith and grace. There is a constant focus in our society that we need to better ourselves at all times. We need to diet, avoid getting old, work ourselves into early graves, and never take the time to just sit with disappointments, obstacles, and mistakes. God forbid we actually acknowledge the dark side in ourselves! It is exhausting to think, that as a whole, we must take medicine, hide our imperfections, and avoid anything that pauses us into a state of deep awareness. We have such an imbalance in the body, the mind and the spirit because we are constantly looking outside of ourselves for answers that are already inside of us.  We are not broken in the way that others have wanted us to believe. We are moving slowly, transitioning into another place, with each passing moment we are getting to know the truth in ourselves. We are embracing authenticity and all the beauty it has for us. This mass consciousness is never easy but to accept the labels of "brokenness or needing fixing," well that is just unacceptable.
As we move through this next month allow yourself the moments of falling helplessly onto a sofa, a bed, and covering your head if that's where you are in your life. This will pass! We must distant ourselves from others at times. It requires solitary confinement, peace, and lack of distractions. You will get there. First, stop accepting that you cannot get through this. Secondly, stop feeling that there is something horribly wrong with yourself. And, thirdly, the fixation of perfection is overrated. Who the hell wants to be like anyone else? You are magically beautiful. You are stupendously gorgeous. And you are the most AWEsomest person you will ever know. You are the Oneness of it all. Stop focusing on what isn't. Accept what is and move on. You got this! After all the Divine doesn't make mistakes!!!!
I ask that you be gentle with yourself this month. Let the month of "Love" be about loving yourself first and foremost. There is beauty in this truth. I promise that when you feel the light of Oneness in you others will begin to feel that as well because it starts with You.
About the Author: Millie A. Mestril
After raising six children, working in the corporate world, and being part of a relationship for eighteen years, I found that happiness was not consistent in my world. I left the business world, ended a relationship that was deteriorating and headed to the mountains. My best friend and I bought a small motel in the middle of gorgeous country and began the greatest journey. What started as a visit to Asheville in May of 2010 became a permanent home for us. Now with only one teenager at home, I am able to be part of a wonderful world of meeting people from all walks of life. We've transformed an old gem of a place into a sweet and quaint oasis for others to find peace. To those looking into our lives it seems we saved Peaceful Quest Retreats, but the reality is that this place saved us. Every day brings joy, inspiration and a zest for life I never knew existed. The lessons have not always been easy but the ride has been scenic and delightful. I can't imagine ever returning to a life that was not authentic to my spirit. ~ Millie A. Mestril
Please feel free to visit our website at www.peacefulquestretreats.com . I also have a personal blog at: www.momentswithmillie.wordpress.com