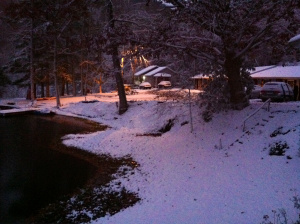 There are mornings I wake hearing the earth stretching and yawning.  I sit on my sofa staring out the glass doors onto the pond, the backdrop of mountains and valley hearing a slight reaching and adjusting of nature.  It doesn't happen every day.  But, when I witness this softness, endless gratitude of earth, sky and water I find a sense of serenity beyond anything else in my life.  I find Spirit sitting with me and allowing me to reach a place of awareness that is unlike anything else.
This morning we woke to snow and the purity of a landscape exhaling the colors of fall.  I don't know why snow always reminds me of patience.  I guess it's the whiteness, the serenity of it all waiting on the surface to be melted.  I am reminded again of slowing down.  We are constantly rushing, moving, in a chaos that from the Heavens must look like an ant farm.  The earth doesn't ask permission to sit, rest and enjoy the breeze…it just does it.  Nature doesn't question unworthiness, loneliness, isolation or anger.  It loves her presence in her space.  Nature is compassion and patience and love all embodied in Spirit.
Storms come and go.  The snow pours and melts.  Autumn changes and falls.  It is all an easy willingness and an acceptance of nature.  Nothing happens without a reason, and the earth welcomes each movement with respect and patience.  There is so much there to be admired and learned from each particle of existence.  And, today is a beautiful reminder, with the first snow fall, that it's time to let go and appreciate the softness of it all.  It's time to move through the unknown and allow things to fall as they must just like the snow.  There's no need to push, pull or resist.
It is so easy to forget where we are and where we are going while traveling in our lives.  It is impossible at times to embrace the moment and breathe in.  Even if you don't live by the ocean, or the countryside, or even the mountains, you have to find a balance in a place to make room for nature.  Whether it is walking to a park, or sitting outside for a little bit, you have to sit in the vastness of this world.  Once you are centered with it you can see the perspective of your own existence and dwelling.  Things start to slow down, shift and make ground for the next chapter.  Have a moment to witness God's magnificent creativity in our world.
Welcome your day with gratitude, a prayer, a cup of java and the presence of your amazing soul.  "Adopt the pace of nature, her secret is patience." – Ralph Waldo Emerson.
About the Author:  Millie A. Mestril
After raising six children, working in the corporate world, and being part of a relationship for eighteen years, I found that happiness was not consistent in my world.  I left the business world, ended a relationship that was deteriorating and headed to the mountains.  My best friend and I bought a small motel in the middle of gorgeous country and began the greatest journey.  What started as a visit to Asheville in May of 2010 became a permanent home for us.  Now with only one teenager at home, I am able to be part of a wonderful world of meeting people from all walks of life.  We've transformed an old gem of a place into a sweet and quaint oasis for others to find peace.  To those looking into our lives it seems we saved Peaceful Quest Retreats, but the reality is that this place saved us.  Every day brings joy, inspiration and a zest for life I never knew existed.  The lessons have not always been easy but the ride has been scenic and delightful.  I can't imagine ever returning to a life that was not authentic to my spirit. ~ Millie A. Mestril
Please feel free to visit our website at www.peacefulquestretreats.com .  I also have a personal blog at: www.momentswithmillie.wordpress.com
A Soul's Peaceful Quest: Lessons from the Path