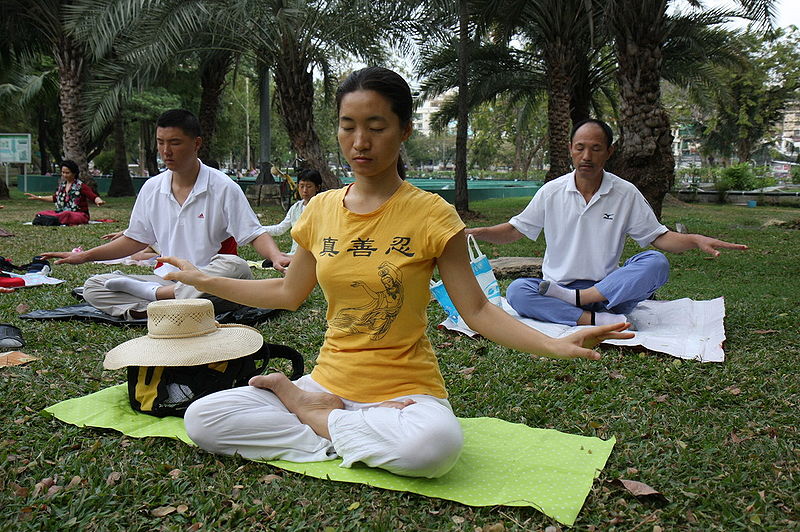 I would like to tell you about my experience practicing Falun Dafa, a Qiqong practice based on the universal principles of Truth, Compassion and Tolerance, that could, one day, change the world completely. It already changed my world and left me with a deep, good, impression that is hard to describe. But I'll try my best to share some of my experiences with you.
In my youth, I wondered abouth the meaning of life, about the truth behind religions, human spirit, nature, life and humanity. I knew there had to be something more out there.  Something that is hidden, or out of sight, and often I tried to reach for it, even if I didn't know what it was.
When I first encountered Falun Dafa, or Falun Gong, it left me with a sense of happiness that's hard to describe. I can say that it was like I found what I have searched for all my life. But in fact, I realized later, that Falun Dafa was the answer to my quest because I searched for my inner, true, original, self.
Also, I often try to make Truth, Compassion and Tolerance a standard of conduit in my every day life. I believe that following it's principles I can rise above the bad things that cause harm to humanity.
But it was not as easy to do as I believed. At first I thought that I had to run from the things that I considered bad, but after a while I realized it's not about giving them up or losing them.
Now I try to see my faults when I encounter a problem and solve them. I try to avoid arguing.  I gave up a lot of my bad habits and I managed to pass with success through a lot of problems that were bearing down on me.  Now I understand that life is about living with them without being affected by them deep down inside. In this way, I think I developed a kind, sincere and tolerant heart and a content with both life's misseries and joys.
I composed a poem, which I entitled "What did we come here for ?"
Sometimes I feel like I lived forever
O million years, a second
Coming down from such a height
A shining light, and then a seed
Life can be confusing
Searching for the Way, hoping
Yet finding  oneself is about giving,
Giving up the extra things,
That cover up the good things
Giving up the dirt, the mud, the strings
So you can bloom, sunshine
Just like a lotus, from the mud
Who reaches high, in to the light
And then blooms.
I hope you enjoy the experience about my spiritual journey and please excuse my not so excellent english skills.
About the Author:  Pavel Petre
My name is Petre and I usually think of my self as a simple guy with a great heart. I practiced sports for about 12 years, and almoust half of them I trained in martial arts. I finished a college specializing in Communications and Human Relationships, and my last job was in mass media. My life changed suddenly in a troubled time, when the seed of faith started to blossom in my heart and everything changed.  After that, I tried different spiritual paths because I suddenly understood that there is more to life than what we can see and feel. In a short while, I found Falun Dafa, a Qiqong practice that emphasizes the principles of Truth, Benevolence and Tolerance (http://en.falundafa.org/), and now I see life in a new light.
Photo via: 
darthpitufina.blogspot.com
   (No copyright infringement intended.)