Diane DiBlasi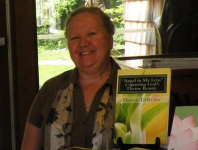 After the passing of her daughter Kiana in 2009, Diane's life has changed completely, she now has awakened to what is her journey in the thing we call "Life". Her journey is to share complete and unconditional love to all beings on earth, not just whom she knows but all of God's creations. For we are all here at this time on earth to learn and know that the most important thing we can do for each other is to love unconditionally, make no judgments or assumptions on each other. Diane DiBlasi is an Advanced Reiki practitioner, a certified angel card reader, creates jewelry, nature photographer and an author of "Angel in My Lens", capturing God's Divine Beauty."
Gemstones have been around for thousands of years and for thousands of years, man/woman have known and used these precious stones for healing themselves mentally, emotionally, physically and spiritually. I not only create these pendants but also use gemstones to keep myself healthy. I have healed a broken toe, healed a burned finger and used them to ease pain. I tell people that if you are attracted to a particular stone, there is a reason why. You may need it for mental, emotional, physical or spiritual healing. I then tell them to read the healing attributes and they are always amazed of what they read about the stone and how it relates to themselves. All the gemstone pendants you see here are unique, one of kind. Once a stone is sold, it will be replaced with another one. If you see a particular stone that was sold, you can ask me to make another for you, of course the design will not be the same but, the attributes for that particular stone always remain the same. All pendants are $18.00 USD plus shipping, to the United States and International shipping charge is $5.00 USD.
Thank you,
God and Angel Blessings,
Diane
No products were found matching your selection.