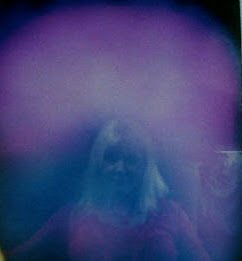 Aura photographs can be taken by a specialized camera and these cameras have come a long way since the first Kirlian camera in the 1970's.
For those of us who are lucky enough to see auras the colors are influenced by our moods and emotions and by Spirit activity, likewise our moods and emotions will influence how far our aura expands e.g. when we are happy our aura expands and when we are depressed it shrinks in on itself.
Colors represent different emotions and abilities for example red is associated with anger, in can also be indicative of inflammation over an area, (it is never a good idea to diagnose a client's medication condition however that should carried out by a clinician). Orange can be associated with healing and learning similarly as does the color yellow. Green and Pink are associated with the heart chakras and green is associated with balance, green is often found in the auras of those in the healing professions. Pink is associated with love and caring. Blue is a healing color but it is also a very high spiritual color, often found in those who are very spiritual and in teachers. Indigo is a very high spiritual color associated with Mediums and those who are very spiritual as is purple the highest spiritual color of all. Occasionally you will find silver and gold, these are very celestial colors and associated with angels and higher guides.
AN EXERCISE FOR SENSING AND FEELING THE AURA
Ideally carried out as a group but this exercise needs a minimum of two people. Divide the group into pairs and one of the pair sits on a chair close to and facing the wall. The second person stands several feet away and to allow the second person to have an indication of how detecting the aura feels like ask them to rub their hands together then pull them slowly apart, there will be a tingling sensation and as the hands are pulled apart and pushed together, there will be a bit of a bounce like you are playing with an invisible ball you may have to practice this a few times as the sensation can be quite subtle and it will improve with practice.
With the first person facing the wall, ask the person sitting on the chair to think of very happy thoughts and concentrate on this. The second person with hands outstretched walks forward to the seated person, being alert and aware of any tingling warm, cool sensations. When these are detected stop and notice how far away the second person is away from the seated person. With the sensation detected, like the invisible ball before the second person should be able to push and pull gently what they are feeling.
Repeat the exercise above but this time ask the seated person to think of something very sad and focus of being negative. Note this time how far the second person is away from the seated person.
Swap over and repeat the two steps above. What have you noticed? there should be a consistency, what is it?
VIEWING THE AURA (THE ETHERIC BODY)
I was born being able to see the Aura and I can now switch it on and off, which is just as well really but in this exercise I am going to try and explain how you can see this for yourself. When you begin to be able to view the Aura, you generally see the Etheric Body, there are several layers and this layer is closest to the physical body and is a complete blueprint of your physical body. If you have had organs or limbs removed they will still be present in your Etheric Body.
You will need at least one other person to do this exercise, they can be standing or sitting it doesn't matter however you will need to get them to stand or sit in front of a plain colored wall. Some people prefer a light colored wall others a dark, it's what works best for you and you can try both.
With your partner placed in front of the wall and it doesn't matter if they are facing you or facing away open your eyes wide, now it's a bit difficult to describe but you have to allow your eyes to go floppy and to let your vision relax as if day dreaming and out of focus, but here is the tricky part. You stare at your partner until it gets uncomfortable and just before you have to blink you will get a perfect view of the Etheric body. Now this layer has a distinctive beautiful color that radiates from the physical. I won't lead you on and tell you what color it is as I want you to see this for yourself. After you have practiced this a few times you will be able to view this layer a lot easier.
If you do go on to develop an ability to see the aura, one thing you will note are that spiritual colors are more beautiful than the colors you see on earth, the have a resonance about them that are unique.
About the Author:
Astrid Brown is an Author and a Professional Medium/Psychic who writes vastly on her experiences. She is an experienced College Lecturer in Holistic Studies and Reiki Master and currently free-lances and writes periodically for an online magazine and works for a large well known international psychic company as a professional psychic medium. Much of her work is inspired and channeled and she writes from the heart in that she explores her feelings and tries to inspire and connect with her readers, there is generally some philosophy in her work as her intent is to get others to think about the deeper meanings of life. When she is not writing she's working as a Medium/Psychic where she has an international clientele.
Location: UK
Web page: http://www.astridestella.info
Author page: http://www.amazon.com/author/astrid_brown
BOOKS:
A DEDICATION TO SOMEONE SO VERY SPECIAL
ONE YEAR
DIARY OF A LOVE AFFAIR
DEAR J
PORTRAIT OF LOVE
ENCHANTED
ONE YEAR SECOND EDITION
THE JOURNEY TO SPIRIT
UNCONDITIONAL
LOVE LETTERS NEVER READ
MY LEGACY
WHISPERED FANTASIES
SOUL'S VOICE
PUT SIMPLY JUST LOVE
FAIRY TALES AND OTHER LIES
SECRET KISS
A PSYCHIC AFFAIR (coming soon currently with the publishers)
THE TROUBLE WITH LOVE (also coming soon)