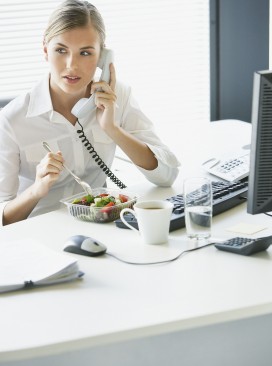 If you have a job that requires sitting all day long with little or no movement you're more than likely going to pack on the pounds.  Here are some tips to avoid the "Office Pounds":
 Eat a healthy breakfast.  Stay away from fast food drive thru's that serves biscuit and crossaint breakfast sandwiches.  Stick with a health green juice, protein shake, yogurt topped with berries, veggie egg omelet and Quaker oats.  One trick I do is make a baking dish with pastured raised eggs and fresh veggies, bake in oven, cut into squares and that's your breakfast for the whole week with a serving of fruit or piece of ezekiel bread.
Get Moving!  Every 30 minutes get up from your chair and do some stretches or take a walk to the other end of the building.  Use stairs instead of the elevator.  Take a brisk 30 minute walk at lunchtime with a co-worker.  Have a walking work meeting,  which you talk about business while exercising.
Pack a cooler!  Bring a cooler filled with healthy snacks and lunch for the day.  I bring my cooler with me most days of the week filled with greek yogurt, organic peanut butter, fresh fruit, celery, carrots, wraps, tuna sandwich, salads and soups.
Allow yourself some flexibility.  Allow yourself some flexibility when going to lunch with your co-workers or business meetings.  All you need to do is stick to healthy choices when ordering from the menu.  Check out the menu ahead of time on the internet so you know exactly what you are going to order.  Have fun with your food and don't be too serious!
Office treats.  Yes, we've all had it when everyone brings in cakes, cookies, candy and leaves them out in an open space for everyone to eat.  At my work we designated an empty office to place the treats in.  That way it was easier to avoid them because they are out-of-sight.  Bring health treats to office parties that way you always have something healthy to snack on.
Photo Credit:  marieclare.co.uk
About the Author:  Sharon Dangles is a holistic health lifestyle coach, and certified in essential oils transforming the lives of women's wellness movement. Received her training through the Institute for Integrative Nutrition, Sharon is the founder ofSharon Holistic Living, a holistic lifestyle resource for women to find balance in their lives through wellbeing. Her practice provides support to busy women that are trying to find balance of eating healthy, reduce stress, business mentoring and finding natural alternatives to medicine by educating them on essential oils. Sharon has done public speaking events on health and nutrition as well as business mentoring.  She recently attended the 2013 JNL World Conference and gave a Keynote speech on Networking.   Sharon was also a guest on the Freedomizer Radio Show sharing her knowledge on the benefits of essential oils.