12.12.15 GLOBAL MEDITATION!  ENJOY!

GLOBAL MEDITATION TO RAISE THE VIBRATION OF THE PLANET – 12.12.15 – Join us as we unite the world! The results of this meditation will be measured and featured in a documentary film entitled "Awaken." For more details: Awaken Time to Evolve 
Donations are also being received for the Master Shift so we may continue to provide free global events. The Master Shift is a 501(c)3. Visit: Make a Donation to The Master Shift
 GLOBAL MEDITATION 12.12.15
Narration: Daniela Nikolova
Voice Recording and Mixing by Stoyan Stoyanov Storn  Stoyan Music
Video/Editing: Michael Stern Michael Stern
 Art: Michael Stern
Master Shift Board: Christina Arabolis, Michael Stern, Yvonnie Dubose
Written by Christina Arabolis and Yvonnie Dubose with the assistance of The Master Shift Creative Team: Daniela Nikolova, Diane DiBlasi, Edna Randall, Ellen Pellegrino, Elie Delaluz, Kat Leo, Jose Bazan, Joseph Simmons, Joe Turchiano, Michael Stern, Nicholas Stoodley, Nicole Rickey, Mark Sutton
Music:
Great Awakening (741Hz) from Wholetones: The Healing Frequency Music Project, Michael S. Tyrrell. Copyright 2014. Used by permission. For more information, please visit: www.TonesOfLife.com 
Nicklas Bauske of Bausic Productions "Free" "Hope" "People of the Clouds" Bausic Productions
Sound design and ambience by Michael Stern
Subscribe to our Youtube channel for more meditations. Master Shift Videos
We ask that this meditation be in the highest best good for all according to Universal Will.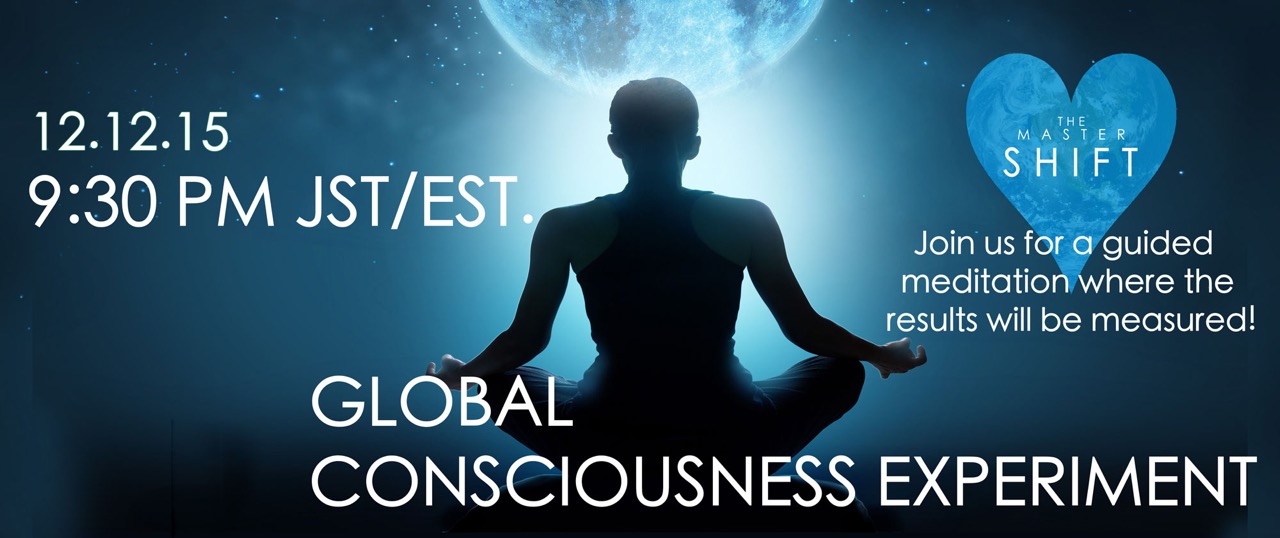 12.12.15 GLOBAL MEDITATION TO RAISE THE VIBRATION OF THE PLANET
JOIN US IN OUR BIGGEST GLOBAL MEDITATION YET AS TOGETHER WE RAISE THE VIBRATION! The Master Shift has teamed up with 20 other meditation groups including the Dhammakaya of Thailand to create a shift in the collective consciousness. On 12.12.15 we will meditate together at 9:30 PM JST and again at 9:30 PM EST. (http://themastershift.com/find-your-meditation-time/ ) The Master Shift will provide a free guided meditation that will be available the day of the event or feel free to create your own meditation event.
THE RESULTS OF THE COLLECTIVE MEDITATION EXPERIMENT WILL BE MEASURED by the The Global Consciousness Project (http://noosphere.princeton.edu/) and the Global Coherence Initiative (https://www.heartmath.org/gci/). The results will be featured in a documentary called "Awaken – Time to Evolve" produced by a London based Film Production Company called Broxstar Films. Further details about the event can be found at: http://www.awakentimetoevolve.com/global-meditation-day/.
TOGETHER, LET'S CREATE A MASTER SHIFT….
Find your meditation time